All Products

Hison Axial Flow Fans with Spark Resistant Constructions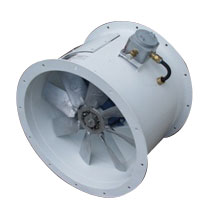 Hison Axial Flow Fans, formerly know as Howden Fans are manufactured to International Quality Standard.
Available from sizes 300mm to 2000mm diameter.
Incorporate heavy duty marine grade LM-6 or equal cast Aluminum impeller with aerofoil blades for better efficiencies and lower sound level.
Adjustable blades angles designs to meet varied volume and pressure system requirements featuring the blade shank with tapered conical section. The tapered section fits into a conical slot in the hub, providing a taper lock fit. A bolt is cast into the blade, projecting into the hub and is secured on the inside by lock-washer and nut.
Hison Impellers comes in aluminum.
Spark Resistant Constructions
Hison Axial Flow Fans with Explosion Proof Motor and Spark Resistant Construction (SRC) features can be built in compliance and bear the BASEEFA 'ATEX' 0299X and 0300X certification or the Standard Spark Resistant Construction (SRC) which is built in accordance to AMCA Standard 99-0401-80 Type B Spark Resistant Construction.
Extended leads extended to outside of casing in accordance to Explosion proof procedure to explosion proof external fan junction box.
Anti-Spark Ring on standard fans is available on request.
Performance
Ranges from 100m3/hr to 250000m3/hr and static pressure up to 125mmW.g.
Performance of Hison Fans are tested in accordance to BS 848 Part 1 1980, the latest ISO 5801 First Edition 1997-06-1 and many of Hison Axial Fan models are also tested in accordance to AMCA 210-99 Standard for air performance and licensed to bear the AMCA seal.
Sound level data is in accordance with BS 848 – 1985: part 2. and ISO 5136 First Edition 1990-12-15.
Direction of Air Flow
Versatility of air flow direction of Form 'B' or Form 'A'
Constructions
Fan housings are constructed of rolled steel. Fan housing of 500mm diameter and above of up to 10mm thick shall have rolled integral flanges ensuring complete roundness of the casing and accuracy of bolting holes. 450mm diameter and below shall be welded with rolled flat bar flanges continuous welded on both side.
Blades tip clearance is consistently maintained.
Extended lubrication tubes from motor to exterior of fan housing are standard for motors with lubrication nipple.
Balancing Standards
All fan impellers are statically and dynamically balance to ISO 1940-1973 (E) G:6.3 standard.
Standard Surface Coating
Hot Dipped Galvanised to EN ISO 461:1999 which also comply to ASTM A123, A153 and BS 729.
Special painting to user specification is available upon request.
Motors
All fans shall be supplied with totally enclosed, high efficiency motors of IP 55 degree of protection, foot-mounted Class F insulation, built to International Standards (IEC).
Special request for NEMA standard motors are also available.
Motors supplied can be suitable for hazardous areas.
Factory Acceptance Tests
All HISON Fans are checked and tested under the strict ISO procedures undertaken for a Standard Factory Acceptance Test (FAT) before delivery.
Accessories
Separate upstream and downstream guides vanes
Mounting Feet
Inlet Cone
Matching Flanges
Wire Guards
Anti-Vibration Mountings