OUR COMPANY
Since its inception in 1986, Airtrade has prided itself on its client-centric philosophy, being sensitive to each clients' specific requests and meeting their needs. Airtrade serves the marine shipbuilding, repairs and offshore industries, industrial and commercial projects by providing ventilation and sound attenuation equipment and systems. We manufacture a wide spectrum of fan products, ranging from small domestic fans to large centrifugal / axial units for all applications.
Airtrade's globally-acclaimed reputation for quality and service has enabled our reach to extend worldwide, associating internationally-renowned manufacturer in the USA, Australia, Germany and Italy. Airtrade manufacture The New York Blower Centrifugal Fans, Hison Axial flow Fans, Barclay's Silencers and Attenuators and Barclay's "Arosio" mist eliminator and storm louvers as well as exclusive agent for Maico ventilation fans.
Moreover, to publicly acknowledge Airtrade's repute, the Air Movement and Control Association Int'l Inc (AMCA) conferred membership onto Airtrade in 1992. Airtrade's products, such as the New York Blower Centrifugal Fans, have also achieved AMCA Certification, thus bearing the AMCA seal of performance. As further recognition of the quality of its products, Airtrade was awarded the ISO 9001-2008 certification on Quality Management System in year 2000
In 2008, a wide range of our Hison Fans are certified under the AMCA certified rated program for air performance.
Airtrade Hison Fans with explosion proof motor and Spark Resistant Construction becomes the first company in the region to achieved "ATEX" certification for our fans construction in 2009. Following that in 2010, we had our Resistant Construction fans to be ABS Class certified.
The technical expertise and quality service of Airtrade's dedicated and experienced hundredstrong workforce has been pivotal in maintaining our growth and strong reputation. Our workforce possesses unsurpassed loyalty and understanding of the trade since many were there at Airtrade's birth and take pride in nurturing it into the globally-recognized company that it is today.
Besides the people factor, Airtrade also relies heavily on technology to propel our growth. We know that only continued investment in the latest state-of-art equipment will enable us to serve the specific needs of each client to the best of our ability.
Today, since 2012, Airtrade group of companies has become a merger company with The New York Blower Company Inc., an American based leading fan company of more than 125 years history.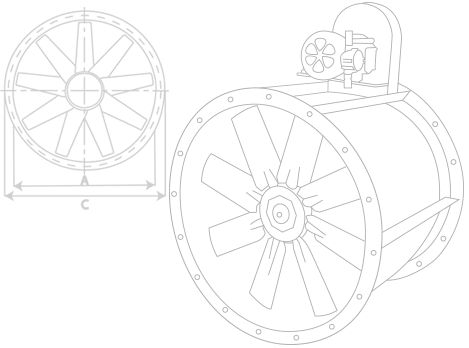 OUR QUALITY POLICY
Continually improving our business processes to achieve customer s satisfaction through:
Consistent Quality Products Standard

Prompt Service and Attention

Deliveries Commitment